Recently OnePlus launched its new smartphone "Oneplus 11 Concept Phone with World's First Liquid Cooling Technology" in this post we will know about the features and specifications of the phone.
in the first view you will notice is something like a snake in the back or moving light but this is real liquid in the phone which is moving this is the world's first liquid phone and it's looking crazy or cool as you notice in the previous time one plus launched many concept smartphones like McLaren Edition etc.
And one plus every time comes with new editions and new features. Now one plus comes with the World's first Liquid Cooling Smartphone. liquid cooling feature mainly use in the PC and Game computers which makes the PC or computer faster and Cool.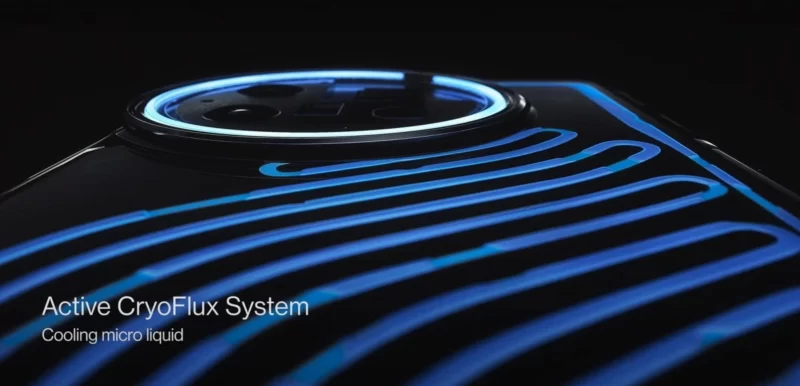 The best way to cool something is to use cool air or put it in a cool area but Liquid Cooling is the fastest and best way to cool anything. the same technology one plus used in his new smartphone. As you can see in the blue lines this is actually liquid which decreases the temperature by 3 or 4 degrees of the smartphone and make it faster and smooth while playing games and while charging 2 or 1 degree now the question comes to your mind cooling during charging? If your phone is Cool during charging so your phone gets charged faster. One plus called this technology Active Cryoflux Technology.
What are the Features and specifications Oneplus 11 Concepts phone?
First It's Looking cool
You can switch this in Breathing mode(basically this concept is your phone looking like it's breathing)
The liquid has been using in this smartphone is a mixture of Water, Oil, and Mica basically this mixture is made smartphone more cool and attractive water, Oil and Mica have their own different bowling points, and just because they have different bowling points so they absorb heat in different points.
I know you all are Queries to try but this smartphone is not available for purchase basically this is a concept smartphone made for showing what One plush can do and how Oneplus does different and new things. You can easily notice Now that technology comes to the next level.
About the performance? The Performance is basically in the flagship range it's mostly similar to the mid-range almost features are improved 5 or 6 are present that's why companies work on the one specific features and work in the deep and try next-level things. Like moving lenses or double the OIS or launching the pro version etc.
But now the one plush comes with a new feature liquid Cooling technology plus understand the if you want to make the smartphone faster so you have to cool your device. In the first eye it looks like the light in the back but in the hand, it feels different from one plus 11 this is thicker than one plus 11 and the others this are almost the same like the power button on the right side and left side have volume button in the bottom type C charging point basically almost same like one plus.
Same display
Snapdragon 8 gen 2
12 GB ram
but one thing is different which is the design first thing is the back it looks like a metal Ceramic back but it is actually glass back.
In the bottom one plus logo
In the top-round camera system, it feels different like a premium look.
and if you switch off the lights you can see the liquid is moving slowly.
Mostly companies use different things to stand out in their products like texture in the back or leather etc. but this one is totally different because liquid Cooling is literally working and you can see it's moving.
Even you can change the lighting effect.
So this is all about the one plus New World's first Liquide Cooling Smartphone "Oneplus 11 Concepts phone" we daily post this kind of tech news don't forget to bookmark our website techatronic.com